Psi Health Solutions, Inc., is the maker of Psi Bands, a patented and fashionable medical device for nausea relief due to motion/travel sickness, pregnancy/morning sickness, anesthesia, and chemotherapy. Retailers include REI, H-E-B, Sprouts, Pharmaca, and Amazon; hospitals; and growing internationally with support from the U.S. Commercial Service. More than 1M sets sold. They have been in business for more than 15 years and are based in Pacific Grove, CA.
Mother Tested and Approved
Romy Taormina, the CEO/Founder of Psi Health Solutions, always knew she wanted to run a business. But she wasn't aware that months of debilitating nausea would lead her there! She discovered the positive effects of using acupressure wrist bands to alleviate her nausea after experiencing numerous months of terrible morning sickness during her two pregnancies. Unhappy with the current offer, she formed Psi Bands, a clinically proven device that is both functional for others who suffer from nausea and also fashionable.
Psi Bands is a unique combination of benefits and features. The device is drug-free, adjustable. You can place it around the wrist like a watch and at the acupressure point that is proven to relieve nausea. Furthermore, the device is waterproof comfortable, affordable, reusable, and fashionable.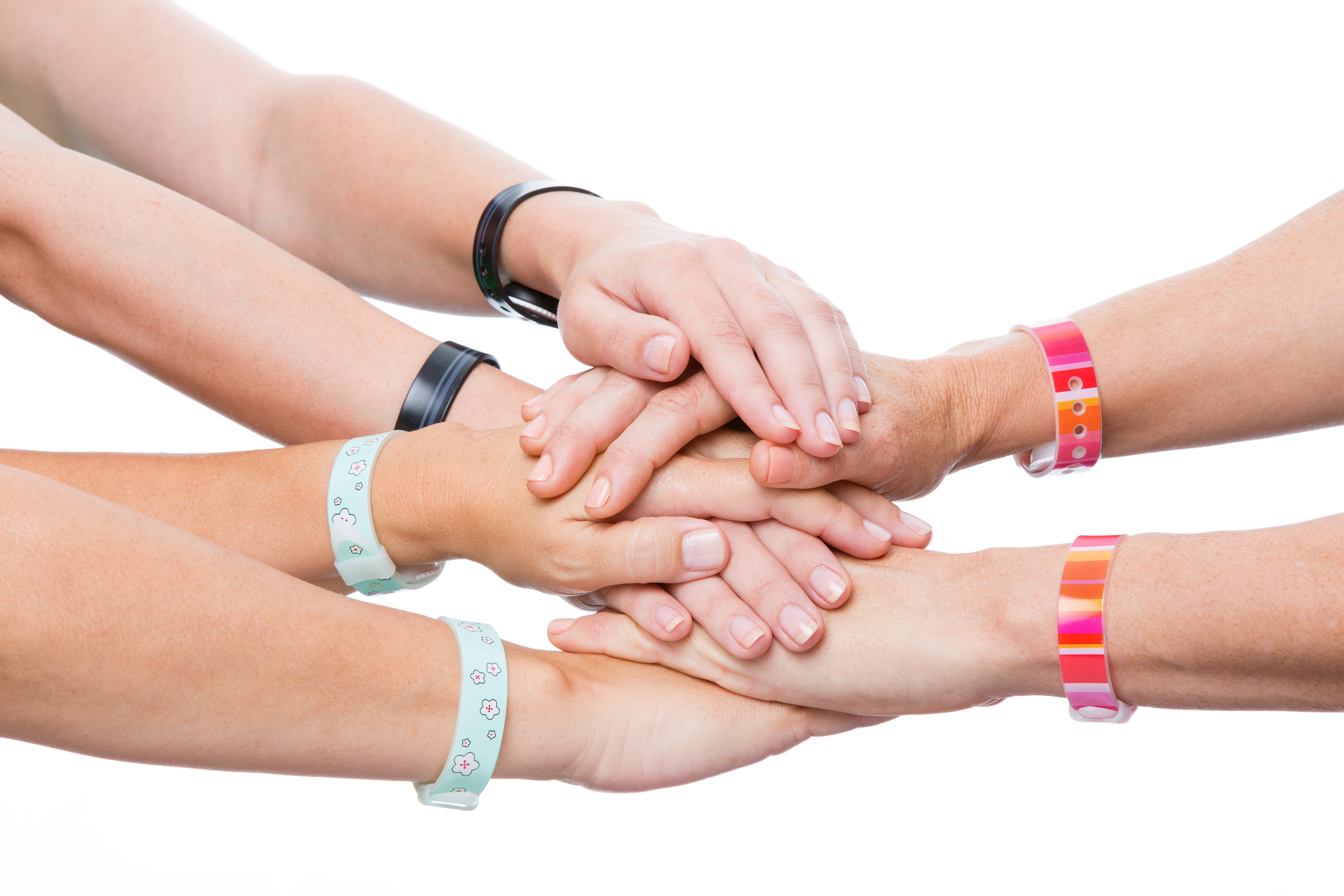 Psi Bands and/or Romy is the recipient of many awards and press highlights. She has been on Shark Tank, which was no easy feat. So few make it on air. The process to get on air was a time-intensive, passionate, and persuasive pursuit, filled with ambiguity, pivoting, research, ongoing communication, and enthusiasm. Psi Bands are an Oprah "O Pick" and Entrepreneur Magazine calls Psi Bands "strokes of genius."
Press highlights also include most major US newspapers, Women's Health Magazine, and numerous business publications, including Inc. and CNNMoney. Romy is a Huggies MomInspired Grant Winner; FedEx #SupportSmallGrant Awardee; Trailblazer Awardee from Wells Fargo & the National Association of Women's Business Owners; a Make Mine a Million $ Business Awardee; and a Three-Time State Trade and Export Promotion (STEP) Grant Recipient.
Covid posed quite the challenge for Psi Bands. Romy discusses supply chain delays and implications in an article that was picked up on the AP wire. With people not traveling in 2020 and into 2021, Psi Bands were not needed for motion/travel sickness relief. With people holding off on having children for the same timeframe, Psi Bands were not needed for morning sickness relief. Store closures and delayed and/or canceled POs were a common thread in 2020. These factors result in increased costs, cash flow challenges, and reduced sales.
To weather the Covid storm, the following were some of the ways Psi Health Solutions innovated:
Transitioned their fulfillment needs to an out-of-state 3pl (third-party logistics provider) to cut costs.
Changed the office to a smaller one to reduce overhead.
Applied for and received grants from the government (i.e. STEP) and companies like Federal Express (FedEx #SupportSmall Grants).
Applied for and received PPP and EIDL.
Utilized free services offered through the US Commercial Service to expand their international distribution. For example, they are now selling on Alibaba/Tmall, the largest business-to-consumer (B2C) retail platform in Asia.
Fortunately, the landscape is changing for the positive. People are slowly resuming their travels and expanding their families, two key reasons consumers need Psi Bands. Many stores/chains are now expanding in droves which provides additional retail opportunities.
Advice
When asked what advice she would give to other business owners, Romy offered the following tips:
1. Get comfortable with the discomfort. Life is unpredictable and filled with constant change. Be fluid and willing to adapt.
2. Serve a purpose that resonates with you. I, for example, am grateful to be able to provide nausea relief to so many people who suffer from this very common and debilitating medical condition. When things get tough, I am able to rise to the occasion, put things in better focus, and find solutions.
3. Own your mistakes. And learn from them, the first time. Accept the mistake as a learning opportunity, apologize where necessary, move on, and grow from it.
4. Be effective. Not Right. No one likes the blame game. Casting blame is not going to solve the problem. And everyone likes solutions. Offer and seek solutions.
5. Subscribe to HARO, a free service that connects journalists seeking expertise to include in their content with sources who have that expertise. Many of Psi Health Solutions' press highlights are the result of submitting to these queries, including this piece you are now reading.
6. Give to others. When you give to others, they are more likely to give back. When you have an opportunity to share advice, make introductions, provide resources, don't hesitate to do it! And don't expect anything in return. However, when you do need something, you will have people to turn to.
7. Listen. Are you really listening to those around you? Sometimes people are not asking for advice. They just want to be heard. Less talking and more listening. And, if they ask for advice, game on. Share away. Listening will also give you new ideas that you had not considered. Those could be some pretty amazing ideas.
8. Give people the benefit of the doubt. All of us make so many assumptions. And those assumptions may be wrong. We never know all the variables so try to give people the benefit of the doubt. Your feelings may be hurt or you may be angry, but let's give others — and ourselves — the peace of mind that we are all doing the best we can. That doesn't mean sitting passively. You have a right to seek answers and question actions, where appropriate (clearly there are exceptions like if your boss asks you do something and you don't agree, you need to decide how much you "push" matters). It's not usually what you say, but how you say it.
9. Engage in a healthy activity(ies) and consider some new hobbies or things on your bucket list that you didn't previously make time to do before — photography, continuing education (online classes), exercise, reading, mediation, journaling, music, dance, art, cooking, gardening…The list is endless. Life is a balance and finding ways to balance our personal and professional lives takes intention and effort. There are 168 hours in a week. Make the time to self-care.
10. Organize your life so you gain time. Shave off wasted time in traffic or lines by mixing up your schedule. Example: don't go to the grocery store at 5 pm when lines are at their worse. Make your meal plan for the week so you only have to go to the store 1-2x per week rather than winging things that result in more trips to the store, ingredients unavailable, and/or stress. Review your calendar the night before so you are not scrambling the day of. Layout your clothes the night before, make school lunches the night before, get up 15 minutes earlier than you normally do.
Holiday shopping – shop early. Avoid lines, unintended last-minute decisions, and crowds. Spend less time on social media and focus on what is a likely better use of your time. That doesn't mean that you have to starve yourself from social media. It means spending less time on it. Have you watched the documentary The Social Dilemma? If not, I'd encourage you to do so. You can then form your own opinion around the topic of social networking and the possible consequences of our growing dependence on social media.
11. Stay current in your industry. Find resources that keep you up to date and current so you can make informed and timely decisions. Subscribe to industry publications, attend tradeshows and/or other relevant networking events, and/or sit on industry-appropriate boards/committees.
12. Stay on top of your finances. Do you need more cash? What are you willing to risk? Are you willing to bring on investors that you will have to answer to? The more people you involve, the more complex things become, which may or may not turn out the way you envisioned. "They," say to hire slow and fire fast.
That means taking time to get to know a potential business partner or investor before you commit to them and them to you. Just like in a marriage. And that still doesn't mean it will turn out pleasantly when money is involved. Document your mutual understanding early on so that you can possibly ward off misunderstandings because you have had the difficult conversations upfront.
13. Be a person of your word. Don't make promises you can't keep. If your intent is to do something but you are unable to deliver, it's better to have said that you will do your hardest to try and make that thing happen. Your word is a foundation for trust and you want/need your team to trust and respect you.
14. Enjoy the journey. Some days will feel like wins and other days will feel like steps backward. They are all opportunities to continue our growth and become more resilient. We must remind ourselves that as long as we are trying our hardest, then we should have no regrets. Tell yourself what you would tell your colleague (i.e. give grace and be kind).
Credits
We would like to thank the below contributors who have helped us to write this article:
Latest posts by Marie Salbuvik
(see all)